Mary Evaline Haning Brooks

1890-1970

Born: October 2, 1890 Cherokee City, Indian Territory
Married William Henry Brooks, date and place unknown
Died: March 16, 1970 at Wewoka, Oklahoma
Buried at Oakwood Cemetery, Wewoka, Oklahoma

Parents: Marion Franklin Haning and Annie Cleopatra Bolene Davis

Biographical notes: Eva Haning Brooks, known as "Evvy", was my Grandma Brooks. She was a Pentecostal Holiness minister. I don't remember her sermons. I do remember that, when someone else was preaching, she took me by the hand and led me to the altar. She prayed for me there and at a home altar that was simply a stack of quilts that she had made. Grandma wore her hair long, believing that cutting it would be a sin. She also believed that personal adornment, like wearing makeup and jewelry, was sinful. She did, however, make acceptions to her ideal of not wearing jewelry. She wore brooches and toward the end of her life, proudly wore a "mother's ring" with birthstones representing her 6 children. In answer to questions about why she had so many rules to follow about proper behavior, Grandma often said, "I live my life in the beauty of holiness."
Grandma hated housework and her only "claim to fame" in the cooking department was that she could make a good chess pie. Daughters-in-law did most of the housework and cooking during family visits while Grandma sat and crocheted. Her mood could be seen by the speed of her crochet needles. She normally would not crochet on Sundays but if she became angry she would unthinkingly pick up the bit of work on her chairside table and set the needles going at a high rate of speed.
Grandma also did other types of handwork. The grapes she made are shown on the memorabilia page. Another project that, unfortunately, has not been preserved, was corsages made of dyed nylon stockings and florist wire.
This is Grandma as I remember her best.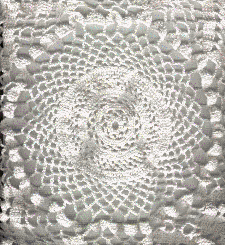 This is a doily that Grandma crocheted.

This is 2 doilies on each side with an edged handkerchief in the middle.
Grandma made these grape clusters from "Chore Girl" scrubbing pads, marbles, and plastic leaves.