1852-1937

Sarah Elizabeth Hinchey

Born: June 11, 1852 at Paris, Tennessee
Married: Andrew Jackson Petty on November 20, 1873 in Henry County, Tennessee.
Died: September 3, 1937 at Davis, Oklahoma
Buried at Greenhill Cemetery, Davis, Oklahoma



This ancestor died about a year before I was born. My mother often spoke of her Granny. "My Granny always said ....." was one of Mama's favorite phrases. Here are some of the things Granny Petty was quoted as saying:

I DON'T PUT ON AIRS. I COULD NEVER FIND ANY THAT FIT ME.

"THEY SAY" IS THE BIGGEST LIAR IN THE WORLD. DON'T LISTEN TO ANYTHING "THEY SAY."

I'LL NEVER DIE. I'M GOING TO LIVE TO BE A THOUSAND AND TURN INTO AN OLD GRAY MULE.

My mother's "sister-cousin" Dorothy wrote, in response to my request for memories of Great- Granny Betty:

"I could write a book of memories of our beloved great-grandmother. She was 'Aunt Bet' to a lot of people. I'd give anything if I had written down some of the tales she used to tell about their early years in Tennessee and Oklahoma."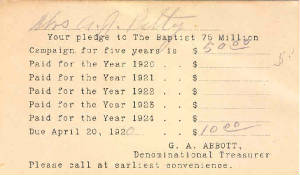 The first receipt here is to Vera Raines, a granddaughter who lived with Betty. The others show Betty's generosity to her church. As you read this, dear descendants, remember that a dollar was worth a lot more in Betty's day than it is now.