I intend to write everything I know about the family pets on this page. Most of the pets were dogs, but there have been cats, and there was one goat.
Somewhere in my notes I have stories about dogs that belonged to my parents before I was born. I will add those stories here.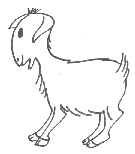 The picture above is a stand-in for Peggy, the first pet I remember. Daddy got Peggy from someone who lived up in the Arbuckles, a small mountain range that could be seen from our yard in Davis, Oklahoma. With my siblings, I enjoyed feeding her from a baby bottle when she was very young. As she grew, she developed the habit of butting people down, especially small children like me. Of course, my parents got rid of her. How, I don't know. I would guess she went back to live in the mountains.

The puppy above could be the ghost of Cookie, the first dog I remember my family owning. Imagine this puppy as a wiggly little bundle with fur as curly as chinchilla and you will have a pretty good idea of what Cookie was like.

The circus came to the town where my aunt and uncle lived. One of the performing dogs, who was pregnant, somehow got her leg broken. She was then a liability to the circus so she was given to friends of my aunt and uncle. When two puppies were born, my aunt and uncle took the male and we took the female.

Before we named our puppy, my little brother Butch put her in my doll carriage and rolled it around while eating a cookie. He dropped cookie crumbs into the carriage and when the dog licked them up, he said, "Let's name her Cookie."

Cookie was at first so small that she could sleep inside my mother's size four fur-lined houseshoe. But after her very early puppyhood, my father having the old-fashioned idea that dogs did not belong in the house, she was put outside at night.

Believe it or not, Cookie climbed up on my father's old car that was parked outside the window of the master bedroom and made her bed there. Every morning when she heard my parents get up, she would jump off the car and run to the door begging for attention.

Well, she was a circus dog, so of course we taught her to beg for food. And she had another trick, too. She would drink Coca-Cola out of one of those little green glass bottles it came in at the time. I can't help but give the Coke company a plug here because Cookie was loyal to them. She only wanted Coca-Cola. Mama tried to trick her by putting root beer in a Coke bottle, but she turned up her furry little nose at it.

We probably did not have Cookie for a full year. I have said that Cookie climbed, she was also like a cat in another way. She grew to be about the size of an average cat. Since I was only eight years old at the time, I can't really remember how long she lived. All of us kids were getting ready for school one morning when a neighbor ran over Cookie. Everyone was devastated, the neighbor as well as all family members.

We were told that Cookie was a Russian poodle and I have been searching all my life for that breed. I have spoken to only one person who knew such a thing existed. There has been nothing on the breed in any book I ever looked at. On the internet, I did find mention of a Russian poodle, but it was described as having a body like a greyhound. So I now believe that we were given the wrong information and Cookie was probably an ordinary toy poodle. But I don't know for sure.

Grandpa Petty treated all animals like pets. See the link below to a page where there is a picture of him with his chickens. He seemed especially fond of cats. He tried to teach them tricks, such as jumping over bars. I don't think they ever cooperated very well. The picture above, of a cat dancing, would have thrilled Grandpa.
"SCHNAPPS" CHANGED TO "NOSY" WHEN WE GOT THIS DOG
NOSY WAS A LONG-HAIRED DACHSUND, THE FIRST DOG JIM AND I GOT AFTER WE WERE MARRIED
CAPTAIN JACK
"THE CAPTAIN" WAS RESPONSIBLE FOR OUR DAUGHTER MELANIE GETTING OVER HER FEAR OF DOGS
THE GIRLS WITH THEIR DOG
PEBBLES WAS PART OF OUR FAMILY FOR 16 YEARS
PEBBLES POSES FOR HER PORTRAIT
DIXIE'S OFFICIAL PORTRAIT
KEVIN WITH HIS GRANDPARENTS' DOG LANCE
PEPPER POSES FOR HER PORTRAIT
ROZELLAH PETS PEPPER
PEPPER IS THE LAST DOG MY PARENTS OWNED
KENNETH BROOKS WITH DIXIE
THIS IS MY FATHER AND ONE OF HIS DOGS