DAVIS

Eli Davis, Sr. may have been the son of John Davis, who lost a leg in the Revolutionary War

Eli Davis, Sr. was born in Stafford County, Virginia August 11, 1779
He married Elizabeth Avent

Elijah Davis was a son of Eli Davis and Elizabeth Avent
He was born in 1807
He married Rebecca Fletcher (her mother possibly American Indian, tribe unknown)
He died in 1884

Andrew Baker Davis was a son of Elijah Davis and Rebecca Fletcher
He was born January 14, 1838 in Nashville, Tennessee
He married Lucinda Evaline Hawk in 1857 in Madison County, Arkansas
He died August 9, 1911 in Wewoka, Oklahoma



HAWK

Jacob Hawk was a son of ? And ?
He was born about 1780 in Tennessee
He died about 1840 in Tennessee

Jesse W. Hawk was a son of Jacob Hawk and Mary Polly Warren
He was born February 23, 1812 in Warren County, Tennessee
He died July 8, 1884 at Hawk's Creek, Madison County, Arkansas


Lucinda Evaline Hawk was a daughter of Jesse W. Hawk and Elizabeth (Betsey) Holmesly (spelling uncertain)
She was born March 25, 1835 at Hawk's Creek, Madison County, Arkansas
She married Andrew Baker Davis in 1857 in Madison County, Arkansas
She died January, 1936.




FROM 2ND COUSIN NORA KELLY'S SITE

Jesse Hawk was born in Tennessee
He married widow (name unknown) of Michael Masters, who was born in Virginia in 1804 and was already the mother of 7 children, with Jesse, she had 5 more, one of them my great- grandmother Lucinda, who married Andrew Davis (see Davis line above)
Jesse died in Washington County, Arkansas in 1885
His wife died near Fayetteville in 1867

FROM AN UNKNOWN SOURCE

(My apologies for this. I found it in an internet search and failed to record where it came from.)


On June 14, 1829, in Warren County, Tennessee, Martin JOHNSON married Mary Ann "Polly" WARREN(?) Hawk. Polly was born between 1774 and 1780, possibly in Surry Co, North Carolina, and was possibly the widow of Jacob HAWK who owned land in Warren Co, Tennessee by 1812 when he appeared on the Warren County tax list returned by Benjn. LOCKHART, and who had also been a near neighbor of the JOHNSONS, Combs and PAINES. Jacob HAWK had died in Warren County in 1828 or early 1829, as noted below.
In 1830, Martin JOHNSON was listed on page 363 of the Warren County census with a complex and confusing household - undoubtedly the result of his marriage to Polly WARREN Hawk. It appears that some of each of their children from their earlier marriages were living with Martin and Polly, and that others may have been living in the households of siblings, both HAWK and JOHNSON, and thus far, deciphering the various statistics has been nigh to impossible:
1830 Warren Co, TN Census, P. 363, Line 21:
Martin JOHNSTON 00010001-0111000101
1 male 15-20 Jesse Hawk, 18? Thomas Murrell Johnson, 19?*
1 male 50-60 Martin, Johnson, Sr, b 1776-1780
1 female 5-10 Eliza Johnson, 6? Lucinda Hawk, 10?
1 female 10-15 Nancy Johnson, 10? Nancy Hawk, 14?
1 female 15-20 Sarah Johnson, 15?** Lydia Hawk, 16?
1 female 50-60 Mary Ann 'Polly' WARREN? Hawk Johnson, born
1774-1781?
1 female 70-80 UNKNOWN
(US Census, 1830, Warren Co, TN, Sistler, Nashville, TN)

Note: The many questions regarding the identities of the children in the above household will be
addressed at a later date. However, it is possible that son Thomas Murrell JOHNSON* had
already married Sarah McMURRAY and was in his own Warren Co, TN Household (add'l in
regard to this to be added later), and that daughter Sarah JOHNSON** had already married
Nicholas COUNTS and gone on to Arkansas. The identity of the elderly female in the household
is interesting because of both the 1820 Warren Co, Tennessee and the 1840 Madison Co,
Arkansas census records (See below).
Martin and his second wife, Polly, remained in Warren County, Tennessee until about 1832 when
they removed to Richland Creek, now in Madison, but then in Washington County, Arkansas,
joining some of their children who had gone ahead, and leaving others behind, although additional
of those would also later remove to Northwest Arkansas.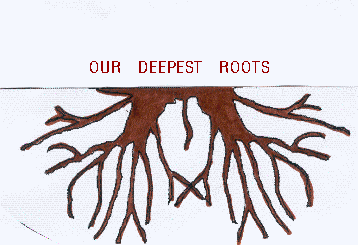 Through the Davis line, we are apparently related to the Avent family. The earliest Avent I have found a record of is Joan Avent, born in 1550, Butler's Parish, Brixton, Devonshire England. It is through the Avents that we may be related to William the Conqueror.