GREAT-AUNT RENA WITH MY BROTHER BUDDY
WE OFTEN STAYED OVERNIGHT WITH AUNT RENA DURING HANING FAMILY REUNIONS
September 7, 2001

Family reunions are celebrations. Currently, I do not know of any organized reunions in our family. When I was growing up, however, there was an annual Haning reunion. Relatives of Frank and Annie Haning, who were my great-grandparents, plus many in-laws and relatives of in-laws, gathered every Father's Day. The time of the reunion was chosen to honor both Haning grandparents. Father's Day fell very near, if not on, Grandma's June 16 birthday.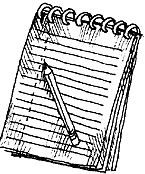 FROM WILL BROOKS'S DIARY

JUNE 16, 1951

Was clear and hot. We went to Wewoka for a reunion today. We made it fine up there.

JUNE 17, 1951

The temperature was fine. We had a big dinner and everything was fine. About 78 people there for dinner. All the kids were there.


The biggest celebrations were when Daddy came home
This is my husband, our son, and our youngest daughter