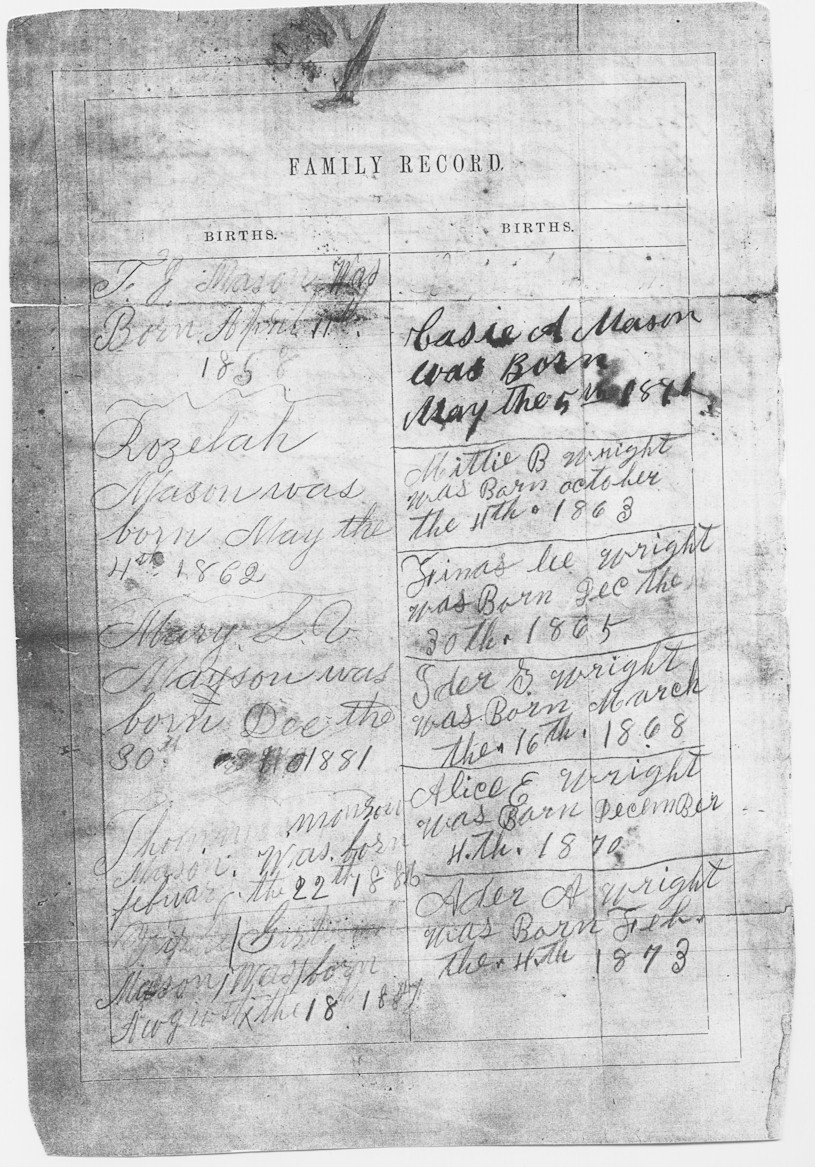 I do not know who wrote the information on the Bible page pictured above. I found two pages in my mother's things several years ago. The other page is a marriage record that I hope to have scanned later. Most of the birth record page is in agreement with other records I have seen. One exception is the birthdate of T.J. Mason. Another Bible page in my mother's handwriting says he was born on July 4. Since the older record usually is more likely to be correct, I have used the date on this page for my family tree.

Because the handwriting is difficult to read, I include here my own list compiled from the information above, with additions and corrections. I give full names where I know them and have corrected spelling to the best of my ability.

Thomas Jefferson Mason was born April 11, 1858
Rozelah (or Rosella) Paralee Wright Mason was born May 4, 1862

These are T.J.'s and Rozelah's children:
Mary Leona Vandella Mason was born December 30, 1881
Thomas Monroe Mason was born February 22, 1886
Virlie Gertrue Mason was born August 18, 1887
Cassandra Alifair Mason was born May 5, 1891

These are Rozelah's brothers and sisters:
Mittie B. Wright was born October 4, 1863
Finus Lee Wright was born December 30, 1865
Ida G. Wright was born March 16, 1868
Alice E. Wright was born December 4, 1870
Ada A. Wright was born February 4, 1873

The second brother is not listed here. It is assumed that there was another Bible page where he was listed. I add his name here to complete the record.

William Jesse Wright was born May 8, 1877


I wrote this about T.J. Mason when I first began my research. "The evidence for the time of his death is that his last child was born in 1891 and my mother said that her mother's father died when she was a small child." Actually, I remember my mother's exact words, "Your Granny's father died of cancer when she was about four years old." I now have Clady Bomar Wright's notebook entry, shared by her grandson John T. Wright. The entry says, "T.J. Mason died August 18, 1892." Since my grandmother Virlie was born on August 18, 1887, that means her father died on her 5th birthday.


MY PARENTS' MARRIAGE LICENSE