I have a guestbook. Look for it at the top of my home page.
2001

This is what I looked like two years ago. See that spot on my forehead? I always told my grandchildren, when they asked about it, that it was my ugly spot. It turned out to be something really ugly, basal cell carcinoma. It has been removed and the surgeon did a wonderful job, leaving hardly a scar. Another large skin cancer was removed from my scalp. Young relatives, take note. Skin cancer runs in the family. Try to avoid it by not spending too much time in the sun. A beautiful suntan this summer can turn into skin cancer years from now.
This is what I will look like in a few years. It's my father's mother.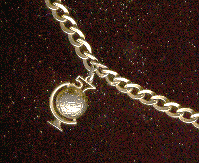 This bracelet was a highschool graduation present.

This necklace was one of the first gifts my husband gave me.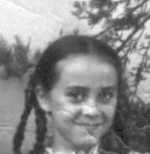 This is what I looked like in the 2nd grade. The marks on my face are not scars but wrinkles in the carelessly handled photograph.