MY LEGENDARY ANCESTORS


Looking for family with clues that are few
Mama born in Paris, that much I know is true
Crockett cousins, kin of Dave, lost in the mountain mists
Daddy's Grandma, known as Lil, not on the Cherokee lists
Two names that are nonexistent branch from my family tree
But Mama was born in Paris - Paris, Tennessee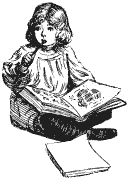 RECIPE

Take:
A lot of joy
A little pain

Add:
A cup of sunshine
A pinch of rain

Wrap in:
A soft little body
Too wiggly to hold

What have you got?
A two year old.






All verses copyright 2000
by Sharon Thomas








CURSES!!!

My family valued words above heirlooms;
They were to be kept spotless.
Yet everyone needs special words
That express exasperation.

At other times loquacious,
Grandpa cranked his truck in silence.
"Cuss it, Walter Petty," a neighbor said.
I think she cussed it for him.

At Sunday School my mother learned
To say, "Yellow Cats!"
An unexpected fall made her so mad
She said, "Yellow Cats! Yellow Cats!
And a whole string of Purple Cats!"
Those cats are family legend now.

Red-headed Granny with her famous temper
Came closest to the unacceptable
When she said, "Oh, my A-double-----foot!"
If children were around she only said,
"My hind foot!"

Aunt Betty made it simple.
In times of temper she said,
"Words, WORDS, WORDS! WORDS!! WORDS!!!!!"