Rozellah Pearl Petty Brooks

1914-1997

Born: January 3, 1914 at Paris, Tennessee
Married William Kenneth Brooks January 6, 1934 at Davis, Oklahoma
Died: January 9, 1997 at IHS Nursing Home, Orange Park, Florida
Buried at Brevard Memorial Park, Sharpes, Florida
Parents: Walter Bartlett Petty and Virlie Gertrue Mason

Biographical notes - The vital statistics given above do not give an accurate account of Rozellah's life. She was indeed born in Paris, Tennessee but Tennessee was never her home. Her parents had married in 1904 and moved to Oklahoma where their first child, Walter B., was stillborn. It seems that they went back to Henry County, Tennessee only long enough to be with family members when their second child was born. When she turned out to be a healthy little red-headed girl, they took her back to Oklahoma at the age of three months. She lived in Davis, Oklahoma until she married at the age of nineteen. Rozellah's only surviving sibling was almost ten years younger than she. A second brother was born when Rozellah was about three years old but he lived only a few hours. Rozellah and her parents lived in a big two-story house with her father's parents and another of their granddaughters. "My sister-cousin" Rozellah always called Dorothy, the cousin whose mother had died. Other cousins lived nearby, so being an only child for so long did not mean loneliness for Rozellah. Besides her cousins, she had a good friend next door, a little boy named Joseph Coffee who remained her best friend until his family moved away in their early teenage years.
~ ~ ~ Here I will skip over the teen years because I have much information about high school and will add an education page later. ~ ~ ~

Here is a link to the page where I will tell the story of my parents' courtship.

Rozellah was a Sunday School teacher and active member of the Woman's Missionary Union. She was several times elected president of her church's WMU and was once associational WMU president. She liked to write her own lessons from what she knew of the Bible, rather than using Southern Baptist Convention literature.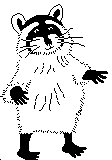 Rozellah loved "critters." Of the living, breathing ones, her favorites were dogs. She did not often keep any other kind of pet but she did think they were all cute. She especially liked them in figurine form. She would have wanted to add this dressed raccoon to her critter collection.