Enter subhead content here
HAIR OF SOME ANCESTORS MADE INTO TINY BRAIDS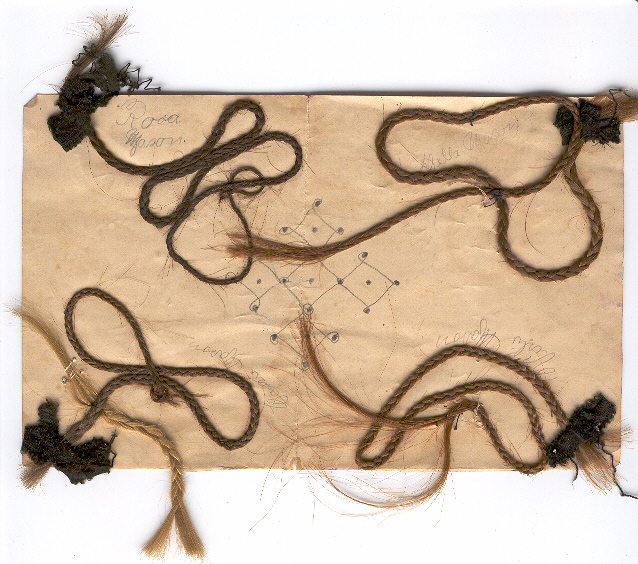 REPRESENTED HERE ARE MY GREAT-GRANDMOTHER AND ALL OF HER DAUGHTERS
The relic above is a mystery. My guess is that it was a gift for the Petty family when they left Tennessee to live in Oklahoma for their daughters' health. That would probably have been the year 1902. All hair is red or auburn except the blonde braid attached to Cassie's. The blonde one is the only one not identified with a name. Since Cassie would not have been old enough to have a daughter at that time, I don't know whose hair that is. Each braid is tied with a bow of black lace that has begun to unravel. I have no idea what the penciled design means. Below are the verses that Rosa and her daughters wrote on the back of the paper to which the braids were attached.
When this you see remember me
I am your friend in Tennessee
~~~ Rosie Mason
Remember still and bear in mind
That I will be a friend to you
When others are unkind
~~~Virlie Mason
Remember still and don't forget
The brown-eyed girl
That loves you all yet
~~~ Della Mason
If on earth no more we meet
May grace divine be given to each of us
That we may meet around
God's throne in heaven
~~~ Cassie Mason
THIS HANDKERCHIEF MAY HAVE BEEN A BIRTHDAY PRESENT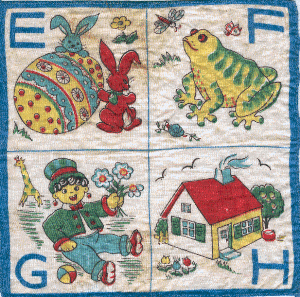 Yes, Dear Descendants, for many years it cost only three cents to mail a letter. At the same time, a postcard with its stamp imprinted was a penny. Advertisers of the time often offered information about their product for "just a penny postcard".
Daddy's motto
This always hung in my father's living room
We sent this to my mother from Hawaii
This is a menehune doll. Menehunes are little Hawaiian elves.
A SMALL PART OF MY ANGEL COLLECTION
GABRIEL, ON THE LEFT, IS THE ONLY ANGEL TO WHOM I HAVE GIVEN A NAME
Another view of my angels