A four-generation photo of the Petty family in Davis, Oklahoma in the early 1900s. Top row, left to right: Walter Bartlett Petty, Virlie Mason Petty, Ruby Petty Holcomb, Marvin Fletcher, Ethel Petty Fletcher. Front row, left to right: Sarah Elizabeth (Betty) Hinchey Petty, Andrew Jackson (Bud) Petty, Mary Jane Underwood Petty, Thomas Raines, Pearl Petty Raines. Children in front are Vera Raines and Ferol Raines and the child in her father's lap is Lucile Raines.
ROZELLAH IN COSTUME FOR SCHOOL PLAY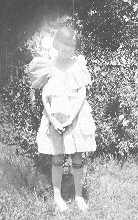 THIS DRESS IS LIKELY MADE OUT OF CREPE PAPER, THE CUSTOM OF THE DAY FOR COSTUMES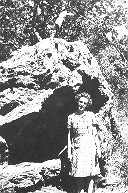 ROZELLAH IN FRONT OF ONE OF THE NUMEROUS CAVES IN THE ARBUCKLE MOUNTAINS
2 SISTERS AND A COUSIN
ROZELLAH ON THE LEFT, BETTY IN THE MIDDLE, AND DELLA MAE ON THE RIGHT
Walter and a cousin unknown to me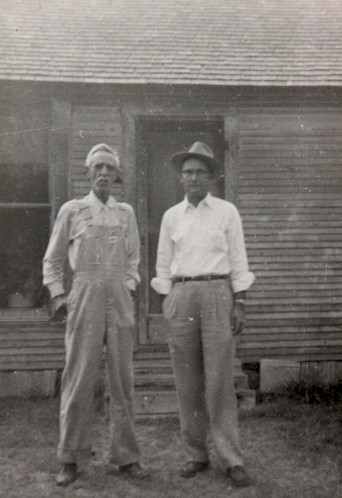 This was taken in front of Grandpa's neat 2-room house in Davis, Oklahoma

Granny and Grandpa (Walter and Virlie) Petty in old age. His face is so shadowed you can't see him well but it's a good picture of her. We have several other pictures of him but few of her.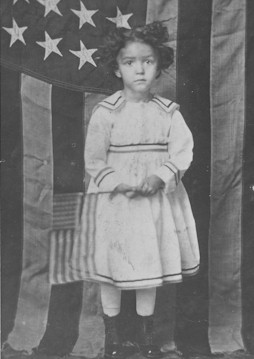 This is Rozellah Petty taking part in a program at the First Baptist Church, Davis, Oklahoma July 4, 1918



Granny and Grandpa Petty outside their tent in the Arbuckle Mountains.
FAMILY MEMBER VIRLIE MASON PETTY
WALTER PETTY WITH MOTHER, DAUGHTER, AND NIECE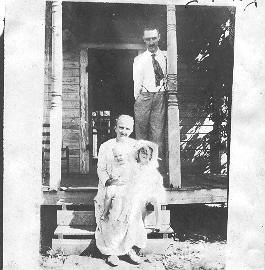 THE OLDER GIRL IS MY MOTHER ROZELLAH AND THE YOUNGER ONE IS HER "SISTER-COUSIN" DOROTHY
ROZELLAH ON A HORSE
HER FATHER, WALTER PETTY, STANDING NEARBY FOR SAFETY'S SAKE
ROZELLAH AND HER BEST FRIEND THROUGHOUT CHILDHOOD
THE FRIEND IS JOSEPH COFFEE, HIS MOTHER'S NAME WAS AGNES. ANYONE KNOW THEM?

A snapshot of Grandpa Petty with Mama, Rozellah, and her "sister-cousin" Dorothy when they were very small.
My mother, Rozellah Petty, in her teens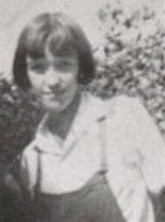 This picture disproves Mama's claim that she was "never a teenager."
Rozellah did not mean it literally when she said, "I was never a teenager." What she meant was that, when she was young, people were not categorized that way. People of all ages were just people.
BETTY PETTY & HUSBAND JAY JACKSON, NIECE & NEPHEW
THIS WAS TAKEN BESIDE "THE BLUE HOUSE" ON THE CORNER, THE FIRST HOME I REMEMBER