And neither was her mother, for whom the only name I know is Lily. The Cherokee Nation has always been governed by chiefs who were chosen according to their fitness to lead the people. There has never been a monarchy in the Cherokee Nation.

Why then, do many people claim descent from Cherokee royalty? The answer may be in a misunderstanding of the Cherokee language. It is said that, in olden times, Cherokee men had a special term of endearment for their beloved wives. That term was mistranslated by some as "princess."

There was never any hint in our family that our ancestors were royalty. They were ordinary people. The one from whom we derive our Cherokee blood and our pride in being Native Americans died in a smallpox epidemic in the mid-1800's. There is thus little possibility that we will ever be able to prove our Cherokee ancestry.
It may not be immediately apparent why Lily's death makes it hard to prove ancestry. It might not have been so if her children had remained in the Cherokee Nation. That was not possible. No family members being left alive to care for them, the two children were adopted (probably unofficially) and taken to live in Texas. Thus, my great-grandmother Frances was not a recognized member of the Cherokee tribe when the Dawes roll was compiled.
Under the Dawes act, each head of family who could prove citizenship in one of the five civilized tribes was allotted 160 acres of farmland.

(later I will add a link to the family heroes page, with the story of Fannie's failure to secure an allotment)
Some of the following paragraph is a report of what my father's Cousin Ruth, with whom Fannie lived for 16 years, told me about her grandmother.
Fannie met George while she was plowing a field, wearing a man's shoes. They had five children. (When did they move back to Oklahoma and where were they married? My Grandpa, their 2nd child William, was born in San Saba, Texas, so either they met and married in Texas or Fannie moved back to Oklahoma, married George there, and together they moved back to Texas.) I don't know where the other children were born, but Ruth, who is Jenny's daughter, said that Jenny was born at Poteau, Oklahoma. The children - in birth order were Thomas, Will, Mollie, Jody and Jenny Mae. After George died, Fannie married "Mr. Russell", but he was abusive and the marriage didn't last long. She lived for 16 years with daughter Jenny and her family on a farm 21 miles north of Wewoka, Oklahoma. There was no church near. Jenny's daughter Ruth read the Bible to Grandma Fannie, who never learned to read. Grandma Fannie watched after Ruth and her sisters, keeping them on a tight rein by making sure they did not associate with undesirable people. Fannie worked at a store that was in their home. She also bought dress goods and made clothes for Jenny's daughters.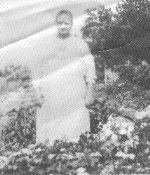 GRANDMA FANNY IN HER FLOWER GARDEN
I have always been curious about what my father's "Indian grandmother" was like. Once I asked him to try to find a photograph for me and he made the request in a letter to Cousin Ruth. She replied that she did not have a picture she was willing to part with. He wrote back to her that if she would send us a picture, we would have it copied and send it back to her. Finally, she sent the picture of Grandma Fanny standing in her flower garden. I was disappointed. The picture really isn't clear and doesn't show what she looked like. Later, while visiting my sister and going through a box of old photographs, I discovered that she had one of Grandma Fanny. She had a copy made for me and finally I scanned it and put it at the top of this page. Although the one at the bottom of the page is not clear, I believe it tells something about this ancestor. She must have loved her flower garden since she was photographed standing in the middle of it.