EARLY CHILDHOOD MEMORIES
My earliest Christmas memories are of a time when my parents, with their first four children, lived in a three-room house that my brother Buddy has always called "the blue house". The house wasn't really blue. The label on the paint can, as I recall, said "seagreen". Since I was much too young to read at the time, I'm sure someone must have told me the true color of the house.

The first gift I remember was a green soap turtle sent in a box by a faraway relative. That turtle is memorable because I did not know it was made of soap. Thinking it was candy, I bit off its head.

We lived a block from Main Street in the small town of Davis, Oklahoma. Since everyone in town knew our family, my parents felt comfortable letting my older brother and sister walk the block to Wacker's dime store. There they bought small gifts and brought them home to show Mama. I'm sure I wasn't supposed to see or hear but I did see my mother pull a jumprope out of the bag and ask, "Who is this for?" My sister answered carefully, "S-h-a-r-o-n". That's how the family found out that I could spell my name.

There was no room for a Christmas tree in that house. Truly, there was not enough room for six people. I believe I was a little past four years old when we left "the blue house."


OVER THE RIVER AND THROUGH THE WOODS

Well, no, we didn't really go through the woods. And we did not ride in a sleigh. We traveled what was then a modern highway (two lanes) at about sixty miles an hour. Daddy drove Old Elmer, a Ford with no heater. The baby sat in front, between our parents, and my older sister and brother and I sat in the back seat. We wore our winter coats and had a quilt spread across our legs. And sometimes we did cross a river or two. When we lived in Texas, we crossed the Red River to get to our grandparents' house for Christmas. Most Christmases we were living in Oklahoma but not in the same town as either set of grandparents.

When we spent Christmas with the Brooks family, my mother usually baked the turkey or ham at home and we took it with us to Grandma and Grandpa's house. Most of the time there was no Christmas tree, just an exchange of gifts and a big dinner. Grandpa sometimes dressed up like Santa Claus and scared the smallest children with his booming "ho-ho-hos". Since the family was both large and poor, we did not all exchange gifts. Everyone gave gifts to Grandma and Grandpa and sometimes the rest of us drew names and each person bought a gift for one other relative. One year Grandma told everyone that she wanted a beautiful baby doll. Growing up in a large farming family, she had never had such a doll. Her five sons and one daughter chipped in and bought the doll for her.

When we spent Christmas with the Petty family, Granny baked a chicken or two from Grandpa's flock. Mama's family being much smaller than Daddy's, we were sometimes able to buy gifts for every member of the Petty family. Granny and Grandpa had two daughters and during my early childhood, there were only seven grandchildren. There was not enough room for a Christmas tree at Granny and Grandpa's house. But Grandpa was imaginative. He covered a large box with Christmas paper and we piled gifts in that box. Tennessee relatives sent packages containing sprigs of holly and that was all the decoration the little house had. I don't remember Grandpa Petty ever playing Santa Claus for us but I know that he did play Santa a few times before I was born. How do I know? I saw his Santa suit. Oh, but I had to be told what it was. It was made of a paisley-print cotton rather than red velvet! That was typical of my Grandpa. He did not have to wear the same costume everyone else did to play Santa.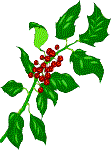 CHRISTMAS AT CHURCH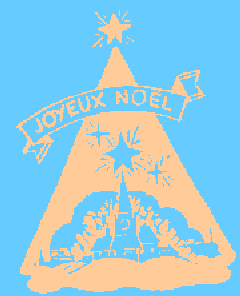 I have been told that before my time, small churches traditionally "had a Christmas tree". Not only did they put a decorated tree in the church but members put gifts for each other on the tree. They were small gifts and were actually put on the branches of the tree.

When I was a small child, Santa Claus usually came in through the back door of the church after an evening service featuring Christmas carols. In his huge bag, Santa carried paper sacks filled with fruit, candy and nuts. He passed those bags out to the children.



CHRISTMAS AT SCHOOL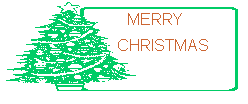 TEXT TO COME

CHRISTMAS AT OUR HOUSE
(late childhood)

TEXT TO COME

CHRISTMAS WHEN OUR CHILDREN WERE YOUNG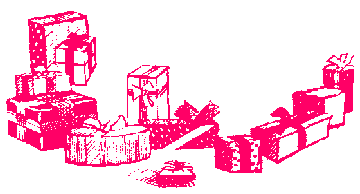 TEXT TO COME

CHRISTMAS WITH ADULT CHILDREN AND YOUNG GRANDCHILDREN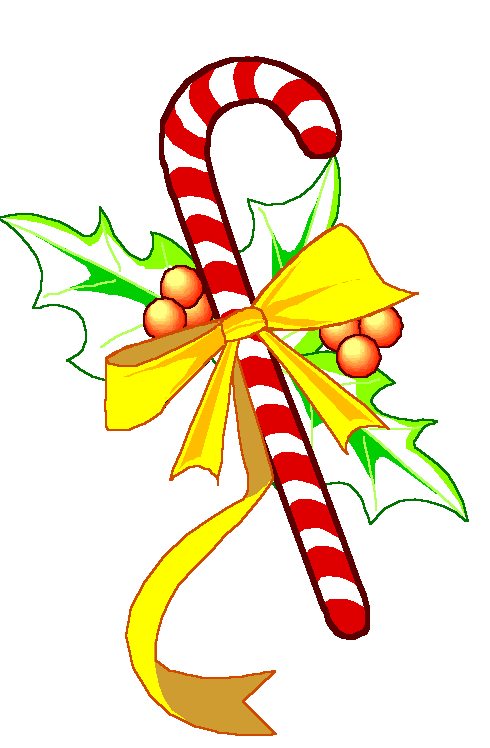 This is the stage of life we are in as I write this, three days before Christmas in the year 2000. We always have a tree-trimming party. All children and grandchildren who live close enough come and help. Candy canes are important ornaments on the tree. The children are allowed to eat only broken ones. It's amazing how many candy canes are dropped every year during tree-trimming time. The ornaments we put on the tree are varied. They range from tiny glass bells that we have had since before our first child to angels the children have given me for my birthday and Christmas this year. I make gift-giving easy for the children by collecting angels. They don't have to think twice about what to get Mama.
We allow the children to start eating candy canes off the tree on Christmas Eve and on Christmas morning we use the candy canes to stir our hot cocoa. Let me think now - what Christmas traditions have I neglected to mention? The manger scene, of course. The figures are small and very old. They are made of papier mache. We have the essentials; Mary, Joseph, and the Christ Child. We also have one angel and one donkey. We have a sheep, too, but he has lost one leg and has to be carefully propped up. The figures are placed inside a small wooden box that we pretend is the stable. For straw, we have excelsior that was once used for packing a gift we got in the mail. And on the walls of our "stable" we have small drawings of the nativity scene that were made by some of the grandchildren. Until this year, we taped a gold foil star above the scene. Somehow, the star lost a point and we are currently using our imaginations for the star. Maybe we will find a new one by next year.